VILLA KOKOBEACH - MEXICAN CARIBBEAN
---
GORGEOUS BEACHFRONT VILLA FOR LARGE OR SMALL GROUPS
---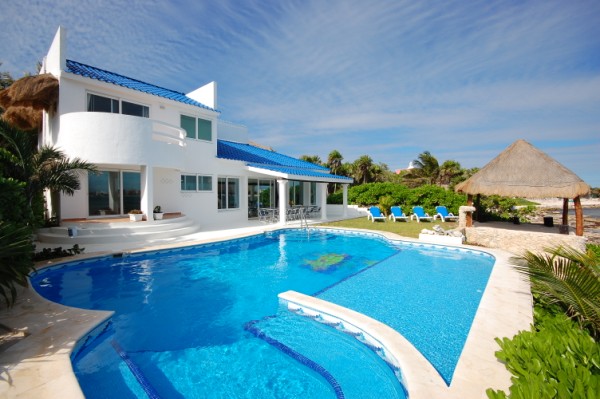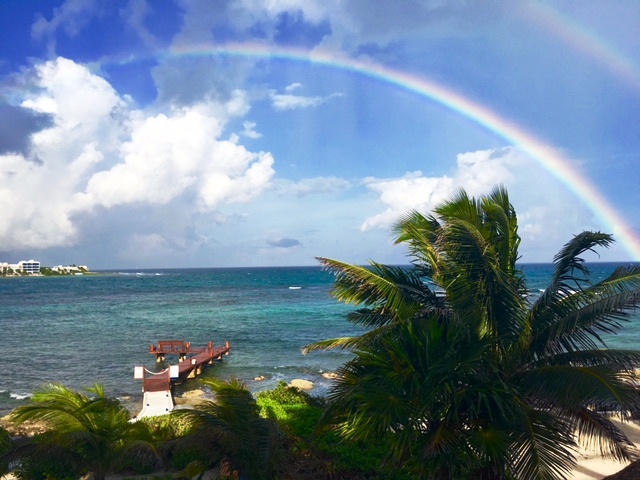 Kokobeach is a fabulous oceanfront 6 bedrooms home with private pool, beach, exclusive and private pier, right in the heart of North Akumal. Perfect for large groups or families! The splendor of nature and the comfort of feeling at home merge in this villa to form a perfect balance for its guests' enjoyment. Because of its remarkable location on one of the most wonderful bays of Mexico, the Half Moon Bay, Villa Kokobeach is the favorite rental house of experienced and demanding travelers seeking comfort and relaxation combined with easy access to the Riviera Maya's many adventures and activities.

---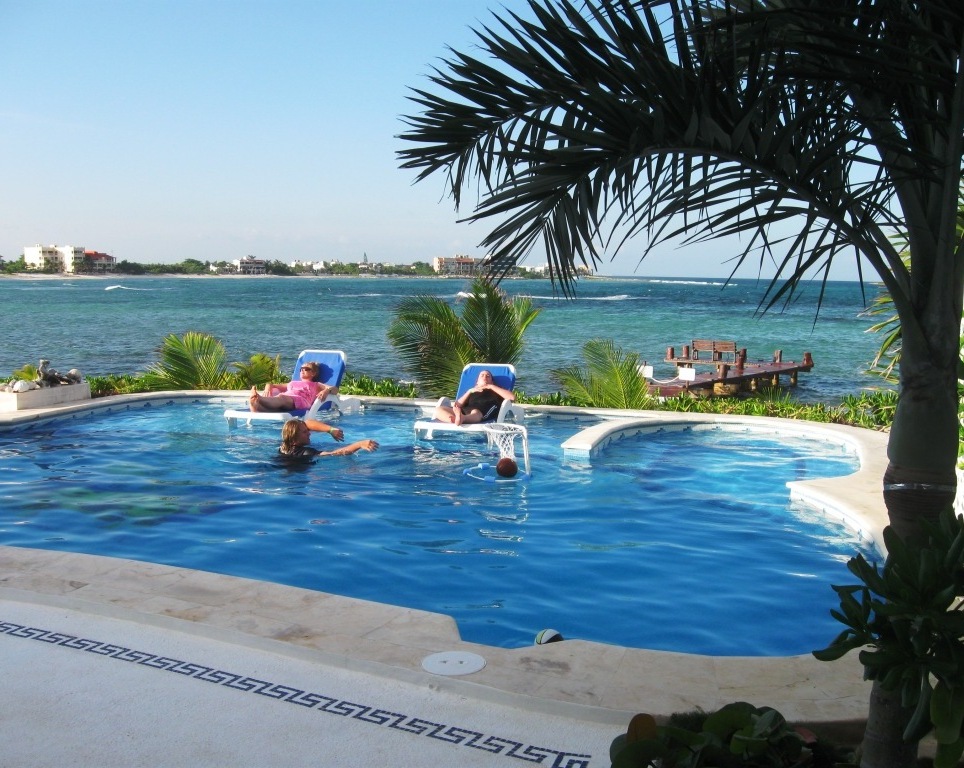 NEW!!! We offer now more amenities and accommodations options according to your budget to enjoy all the comfort and luxury of VILLA KOKOBEACH!!!!
Do you want all of the wonderful outdoor amenities of a large luxury villa but you are vacationing with a small group? Now Kokobeach offers the rental of Main House, Studio and/or Penthouse on their own with exclusive use of the pool and all outdoor areas!!!
---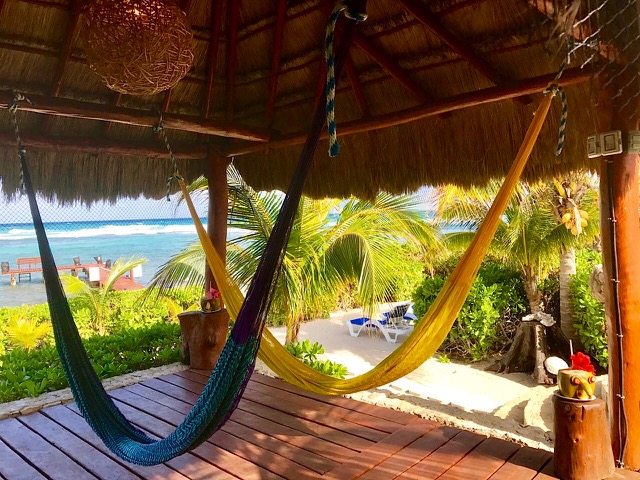 Enjoy the tropical atmosphere of the Mexican Caribbean at Villa Kokobeach in Akumal, Mexico. Surrounded by every comfort, immerse yourself in the villa's natural setting by the Caribbean Sea.

There is nothing between Villa Kokobeach and the white sand of Akumal's Half Moon Bay, so you can walk right out the door, onto the beach and into the ocean.

Villa Kokobeach is a spacious 6 bedrooms beachfront vacation rental in North Akumal, Mayan Riviera, Mexico.
---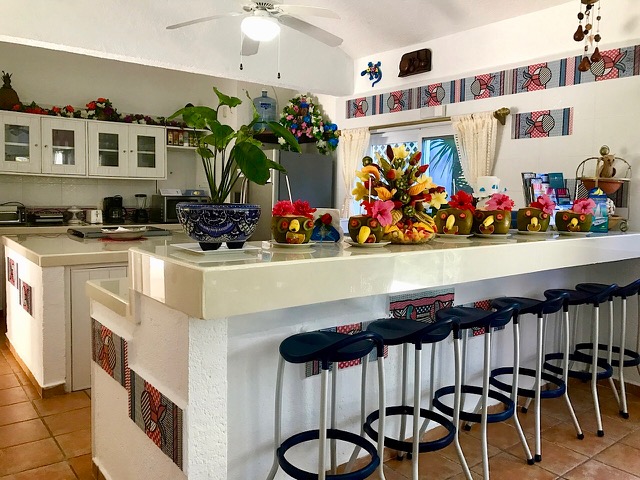 Walk up the path through the well tended tropical gardens and into the large open plan living, dining, and kitchen area.

This area has an enormous faux marble kitchen complete with all the mod cons, a breakfast bar that seats 6, a great dining table with room for 10.
---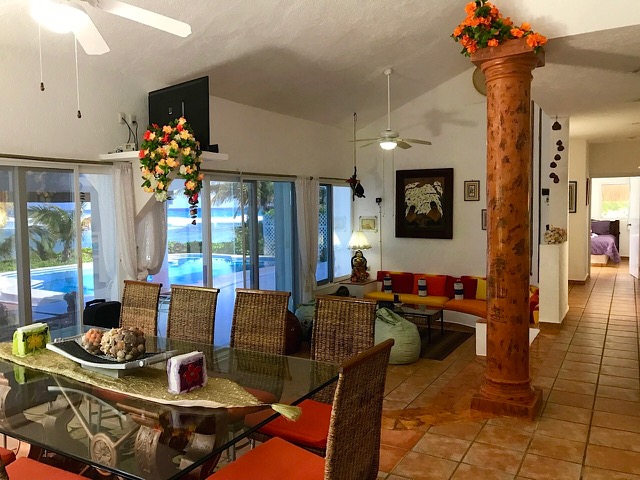 The living area is furnished with a large comfortable crescent shaped sofa and plenty of fun retro beanbags for sitting back and watching either satellite smart TV on the large flat screen or one of the great selection of over 200 DVD movies, and also now the option to connect via bluetooth to your devices to enjoy your favorite TV program or movie. The living and dining areas overlook the Caribbean Sea.

---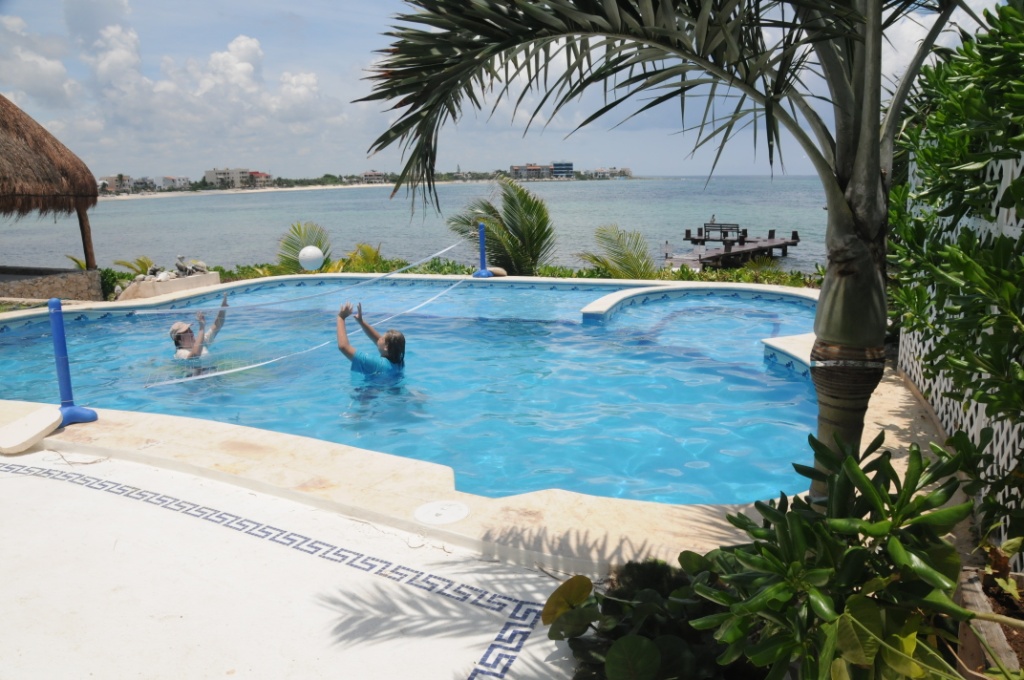 The beautiful, large fresh water swimming pool is another Villa Kokobeach attraction.

The beachfront swimming pool incorporates an original swim-up bar, an exclusive aquatic solarium and a kiddy area.

If you have kids and want to have a great pool to keep them occupied, this is the ticket.
---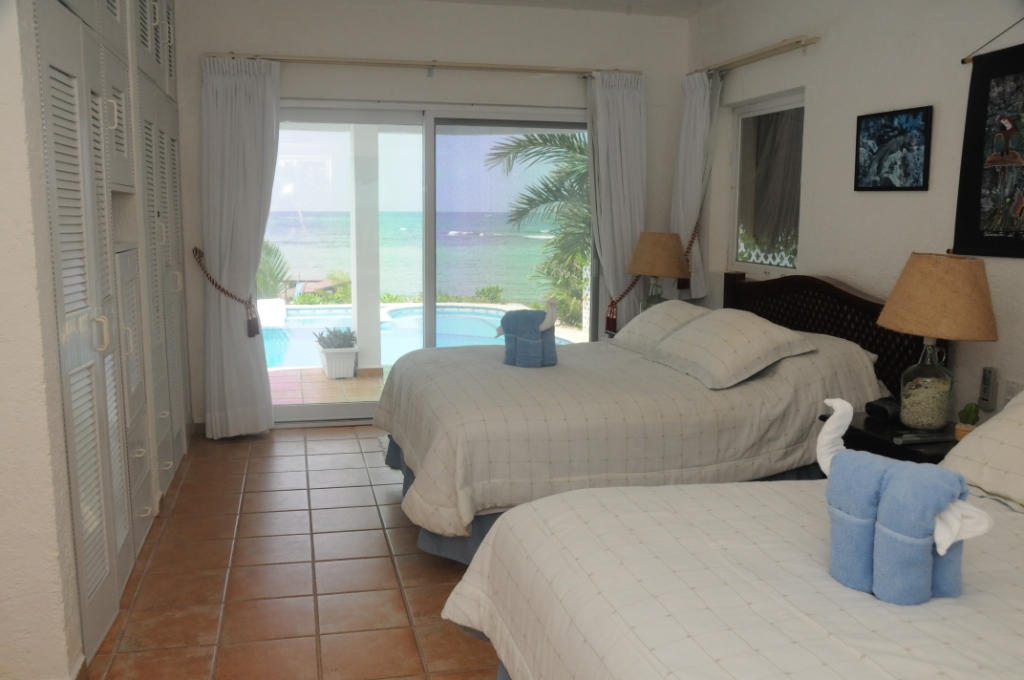 On the main level there's a well appointed guest bedroom w/ocean and pool views furnished w/2 queen sized beds, sliding doors out to the pool area, and an ensuite bathroom. Doors open towards private terraces to a panoramic ocean view of the Caribbean

---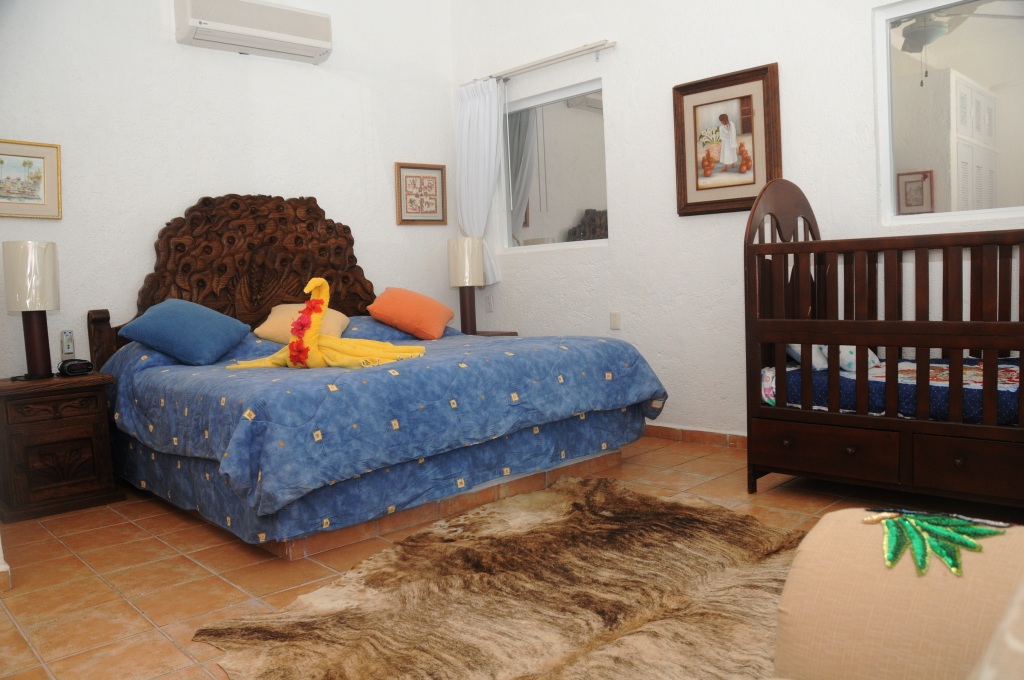 Another large ground floor bedroom is furnished with a King sized bed, a double sofa bed, 2 cribs, ensuite bathroom, and also sliding doors with ocean view. Each room in Villa Kokobeach is unique. They follow the same contemporary Mexican decorative trend, but they all have details that make them special.

---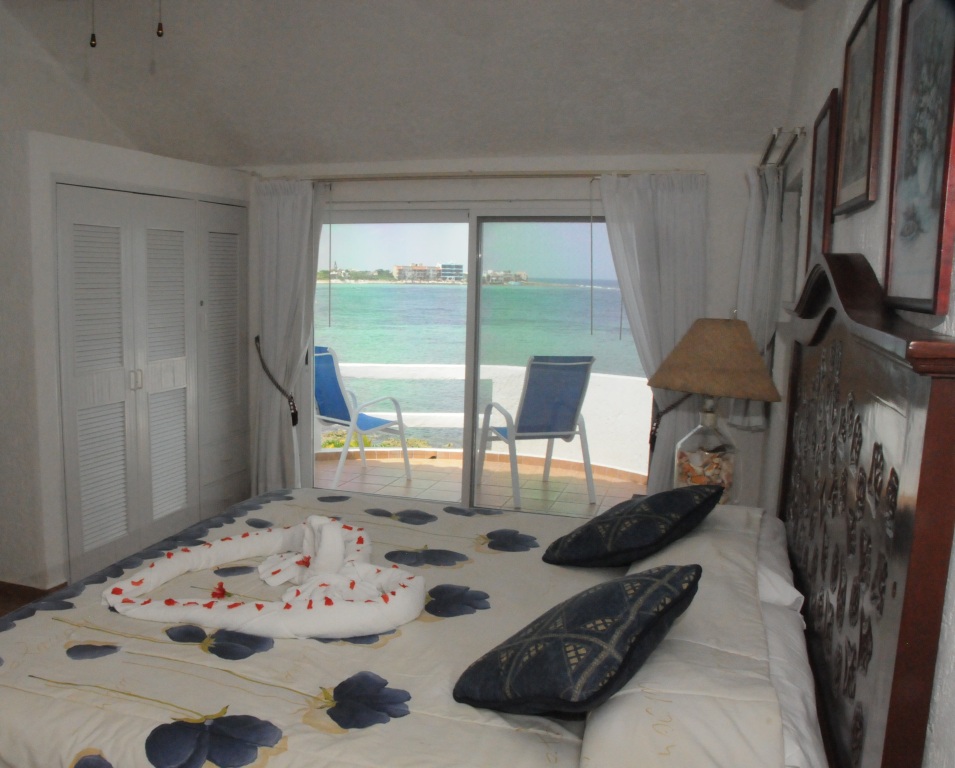 Upstairs there is a big master bedroom with a king sized bed, ensuite bathroom with ocean view bath tub, and sliding doors onto its own private terrace with wonderful views over the bay!

Just along the hall is a small children's bedroom with 2 bunk beds and its own bathroom with shower right next door.

All of the bedrooms at Villa Kokobeach are air conditioned and have a guest safe and a locking closet to keep your valuables secure.
---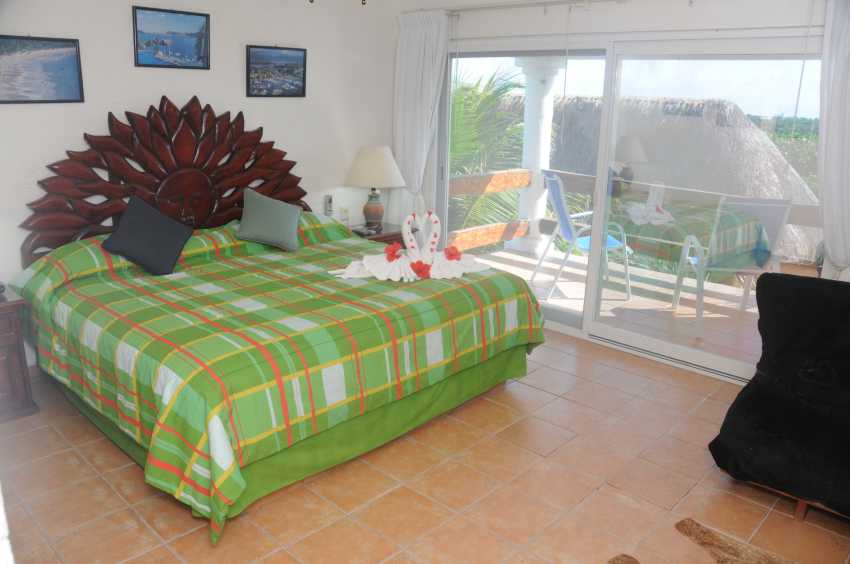 The Penthouse is located on the upper floor with its own separate stairwell and exterior entrance. The penthouse is a one bedroom apartment with a king sized bed and queen futon in the ensuite bedroom, comfortable sofas in the lounge area, 2 of them can convert into sofa beds, a dining area with seating for 4, a kitchenette (microwave, coffee maker and refrigerator), and 2 wonderful private terraces giving views both over the bay to the east and the lush mayan jungle to the west.
---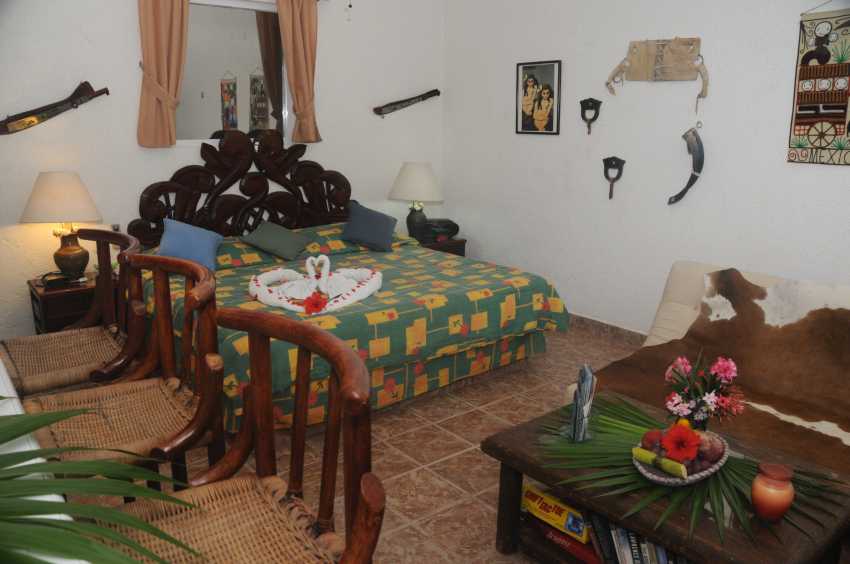 Below the Penthouse, again with its own private exterior entrance, is the ground floor Studio. This is a wonderful space for teenagers and is furnished with a King sized bed, 2 futons, plenty of beanbags, a kitchenette, large closet/dressing room, and ensuite bathroom.

The house is ideal for entertaining, and there is plenty of room for everyone searching for space and privacy. All bedrooms have smart TV's to connect via bluetooth to your mobile devices to enjoy your favorite TV show or movie, DVD player and FREE WiFi INTERNET access.
---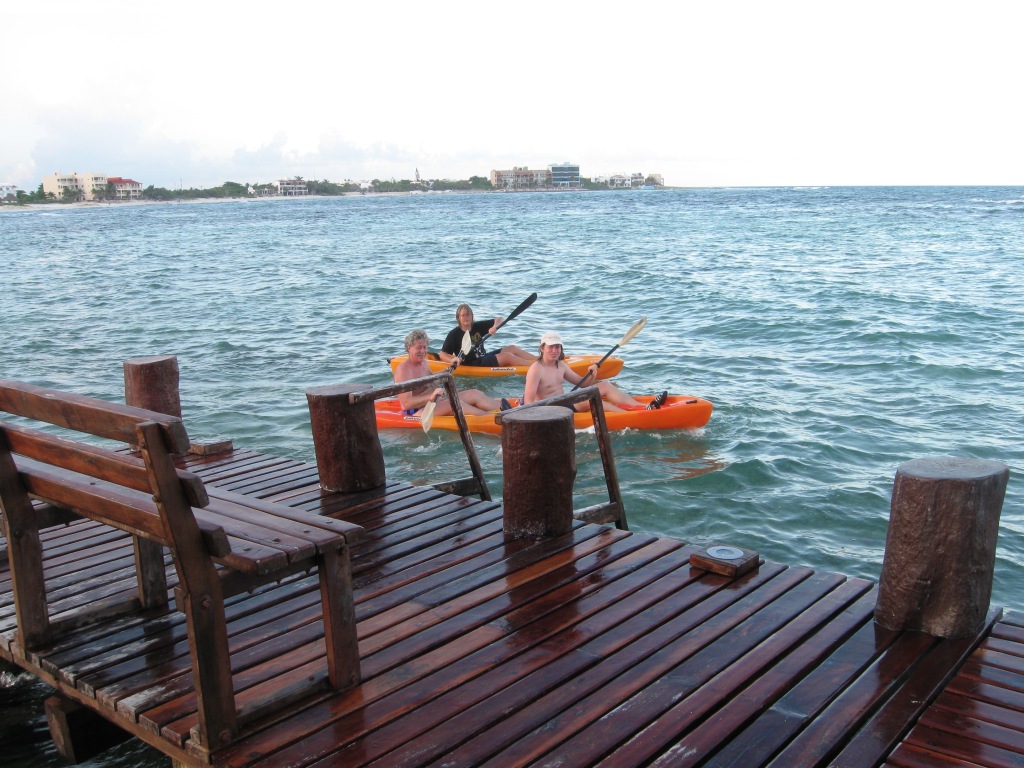 Villa Kokobeach's brand new pier is our newest attraction, a great place to snorkel or launch kayaks for exploring the bay. The pier is also an incredibly romantic place to sit in the evenings with your favorite cocktail and watch as a million stars come out into the Caribbean night sky. Whether you are planning a family vacation, or just holidaying with friends, Kokobeach has something for all!!!

---
AMENITIES
*** FREE WIFI INTERNET ACCESS IN ALL VILLA ***

*** COMPLIMENTARY ARRIVAL NIGHT DINNER FOR WEEKLY RESERVATIONS OF 8 PAX OR MORE***EXCLUSIVE AND PRIVATE CHEF AVAILABLE UPON REQUEST***

*** PRIVATE BEACH W/OCEAN ACCESS AND EXCLUSIVE NEW PIER ONLY FOR OUR GUESTS ENJOYMENT!!!!! ***

*** SWIMMING POOL W/WET BAR, AQUATIC SOLARIUM AND KIDDY AREA. BEACH AND POOL TOYS FOR ADULTS AND CHILDREN ***

*** BIG TERRACE W/PORCH AND SOLARIUM ***

*** PICTURESQUE "PALAPA" W/HAMMOCKS ***

*** BEDROOMS AIR CONDITIONING ****
---
*** 6 smart satellite TVs to connect via bluetooth to your mobile devices to enjoy your favorite TV show or movie. DVD with selection of movies in bedrooms ****

*** 1 fully equipped kitchen and 2 kitchenettes including microwave ovens ***

*** Ceiling fans in every room ***

*** Self-programmable security safe for your belongings ***

*** Hair dryer in all bathrooms ***

*** High Chair, Iron, 2 Cribs, Massage available ***

*** BBQ GRILL ***
---
*** Wireless Bluetooth Stereo Sound System ***

*** Maid and gardener /pool/maintenance man service 7 days a week ***

*** Books and games for kids and adults ***

*** Bed & bath linens and beach towels ***

*** 3 DOUBLE KAYAKS & 1 SINGLE KAYAK ***

*** Purified drinking water provided ***
---
VILLA KOKOBEACH WEEKLY/NIGHTLY RENTAL RATES 2018 - 2019
******SPECIAL OFFER TO ENJOY MAIN VILLA: USD$350/NIGHT UP TO 4 PEOPLE!!! GUEST CHOICE OF 2 BEDROOMS (the other 2 bedrooms are locked off). ******REGULAR RATES: High Season Jan 7 - Apr 30 *MAIN HOUSE ONLY (max 8): $6500 (weekly)* * Rent PENT HOUSE ONLY (max 4): $250/night * *Rent STUDIO ONLY (max 4): $190/night *

Mid Season May 1 - Aug 31 *MAIN HOUSE ONLY (max 8): $5500 (weekly)* * Rent PENT HOUSE ONLY (max 4): $200 /night * *Rent STUDIO ONLY (max 4): $175/night *

Low Season Sep 1 - Nov 14 * MAIN HOUSE ONLY (max 8): $4900 (weekly)* * Rent PENT HOUSE ONLY (max 4): $150 /night * *Rent STUDIO ONLY (max 4): $100 /night *

Thanksgiving Nov 15 - Nov 25 *MAIN HOUSE ONLY (max 8): $6500 (weekly)** Rent PENT HOUSE ONLY (max 4): $250/night **Rent STUDIO ONLY (max 4): $190/night *

High Season Nov 26 - Dec 20 *MAIN HOUSE ONLY (8 max): $6500 (weekly)* * Rent PENT HOUSE ONLY (max 4): $250/night * *Rent STUDIO ONLY (max 4): $190/night *

*Holiday Weeks Dec 21 - Jan 4 2019 *ONLY FULL VILLA RENTALS: $12,000 * (weekly)*

***Maximum occupancy is 18 guests (FULL VILLA) ** Rental Agreement signed & refundable security deposit of $500 USD with credit card through PayPal renting FULL VILLA or ONLY MAIN HOUSE; $250 USD refundable security deposit renting ONLY PENT HOUSE or ONLY STUDIO ** Add $500 per person ($250 per child 9 and under) over the base number of 8 guests ** No refunds on no shows not on earlier check out.
---
---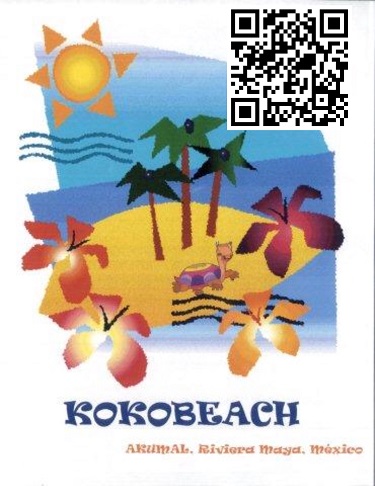 Download our Free App scanning the QR code image url and save money!!!

[email protected]
---
I invite you to visit the following websites:
ECOBEACHES FREE APP!!! You're invited to download from this link our new ecobeaches App for both IPhone and Android! Save more!